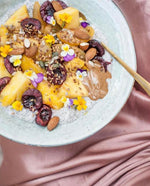 Breakfast sets the tone for the rest of the day. Starting your day off with a nutrient dense meal will give you the energy and brain power needed to tackle the day ahead. We love this easy chia seed breakfast recipe because you can prep it the night before and grab it on the go throughout the week. What you'll need - 

Ingredients:
4 tbsp. White Chia Seeds
1 ½ Cups Trader Joe's Lavender Blueberry Almond Milk 
2 tsp. Vanilla Extract
1 tsp. Cinnamon 
Toppings:
Blueberries 
Melted Almond Butter 
Goji Berries
Coconut Shreds 
Choice of Granola 
Begin by getting a mason jar and placing the 4 tbs of chia seeds in. Pour your lavender blueberry milk in until all chia seeds are submerged. Add your 2 tsp. of vanilla extract. Add in your tsp. of cinnamon. Mix all the ingredients well and let them settle for 2-3 minutes. Once settled, mix again until you see there is no clumping. Cover the jar and store in the fridge overnight or for at least two hours. When ready, top with your toppings of choice and enjoy cold!
Rainbow Spring Rolls are a fun easy way to get a quick meal in packed with nutrients and tons of flavor. These veggie filled rolls are refreshing, colorful, and healthy! What you'll need - 

Ingredients:
1 Head of Butter Lettuce
½ Red Cabbage
2 Bell Peppers
1 Cup Shredded Carrots
1 Pack Vermicelli Noodles 
Bunch of Mint OR Basil 
Optional- Choice of Protein (baked tofu, gilled chicken)
Peanut Dipping Sauce:
2 tbsp. of Soy Sauce or Tamari for GF Option
2 tbsp. Honey
1 tbsp. Toasted Sesame Oil
2 Cloves Minced Garlic
2 tbsp. Water
⅓ Cup Creamy Peanut Butter
2 tbsp. Rice Vinegar
Begin by boiling water and soaking your vermicelli noodles in it. Make sure to submerge your noodles in it and cover it with a lid to keep the heat in. Some vermicelli noodles differ in thickness so follow packaging instructions for cook time (normally about 5 minutes). Next, set your cooking station up with a large plate filled with room temperature water. Prep all of your vegetables by cutting them into thin strips and placing them into bowls. Grab a sheet of rice paper and dip into the water plate for 1 second until fully submerged. Remove rice paper from the water and place flat. Begin to add your desired ingredients. We like to start with mint leaves for aesthetic appeal, and then adding butter lettuce, vermicelli noodles, and desired vegetable toppings. Next, its time to roll them up! Rolling up your spring rolls can seem intimidating, but you get the hang of it quickly! If you have ever folded a burrito before, you can definitely fold spring rolls. Begin by gently pulling the bottom of the wrapper up and over the lower portion of the filling. Try to keep the fillings compact as you roll upwards, until the fillings are enveloped. Next, pull each side over to enclose the filling. Continue wrapping upward until your spring roll is fully wrapped! 
This Summer Superfood Salad is perfect to impress your guests at a dinner party or to take with you on the go. It is jam packed with superfoods, and healthy fats and is extremely satiating! What you'll need -

Ingredients:
1 Pack Arugula 
1 Head of Kale
2 Avocados
3 Persian Cucumbers
½ Cup Blueberries 
½ Cup Blackberries 
½ Cup Hazelnuts 
Bunch of Mint
Choice of Goat Cheese OR Freshly Graded Parmesan 
Dressing:
3 Cloves Garlic 
4 tbsp. Olive Oil
Two Lemons
Tbsp. Dijon Mustard
Sprinkle of Sea Salt 
1 tbsp. of Honey
Begin by shopping up your kale and running it under warm water. Massage your kale for a few minutes and then add a drizzle of olive oil. Continue to massage the kale with the olive oil on it. Add in your arugula to your bowl. Slice up your cucumbers into thin circles and your avocado in half moon shapes. Place your fruits and vegetables on your salad. Toast your hazelnuts by cooking them for until golden on a pan. Crush them into smaller pieces and place them on top. Then, add your crumbled goat cheese or graded parmesan. Finely chop your mint and add it to your salad. Grade the peel of 1 lemon and add the zest to the top of the salad. For the dressing, finely mince your garlic cloves and add in your olive oil, lemon juice, dijon mustard, and honey and mix it until creamy. Toss in your dressing and enjoy! 
This dreamy dinner is one of our favorite hardy meals! It takes about 20 minutes or less to make and is packed with flavor and healthy omega-3 fatty acids. This recipe also makes for the perfect mid-weak meal prep! What you'll need - 

Ingredients:
1 Piece of Wild Caught Salmon
1 Cup Chickpea Pasta (Banza)
Handful of Cherry Tomatoes 
Pesto Dressing:
1 Cup Fresh Basil (packed)
7 Medium Cloves Garlic
½ Cup Olive Oil 
½ Cup Roasted Pine Nuts
Salt to Tast
Begin by boiling water and cook your chickpea pasta until fully cooked. Season your salmon with salt and some pepper grinds. Heat the oil in a 12-inch nonstick skillet over medium-high heat until hot and shimmering. Cook the salmon, skin side up, until golden and crisp, about 4 minutes. Resist the urge to fiddle with the fillet as it cooks. Letting the fish sear untouched in hot oil creates that lovely golden crust. Carefully flip the fillet and reduce the heat to medium. Continue cooking until done to your liking, 4-5 minutes more. In a food processor, add your pesto ingredients and blend until smooth and creamy. Then, grab a pan, drizzle olive oil and blister your cherry tomatoes. Then add your pasta to the pan and your pesto sauce and mix together. Place your salmon and pasta on a plate and serve!   
We don't know about you but we have a serious sweet tooth. In order to avoid consuming highly processed sugary snacks, we like to keep these Healthy Girl Scout Somoas in our fridge as an easy + healthy alternative. What you'll need - 

Ingredients:
25 Pitted Medjool Dates
2 Cups Shredded Unsweetened Coconut
1 Cup Dairy Free Dark Chocolate 
2 Tsp. Coconut Oil 
Place your pitted dates and coconut shreds in your food processor. Blend until everything comes together to form a soft consistency. Add ½ tsp. of coconut oil to soften up the mixture as it's mixing. Rub a bit of coconut oil in the palm of your hand and using a tbsp. measurement, roll your date mixture into your hand and flatten into a circle. Create a hole in the center using a straw. Place your cookies on your parchment paper and stick into the freezer for 30 minutes. Melt your chocolate with ½ tsp of coconut oil in the microwave in increments of 20 seconds until smooth. Remove your cookies from the freezer. Dip only the bottom side down into the chocolate mixture and place it on your parchment sheet. Using a spoon, drizzle more chocolate on the top part of your cookie. Place back into your freezer until chocolate hardens and enjoy!
Practicing healthy behavior won't feel natural at first. It might feel phony, unnatural, or just plain silly. Keep doing the work, growth is a journey. It takes 18 to 254 days for someone to form a new habit and 66 days for a behavior to become automatic. Continue doing the work + staying consistent and remember to be kind to yourself through the journey.